StoragePug is preparing to travel as the Convention & Tradeshow season is picking back up. We will be traveling to more cities than ever to engage with industry professionals, present and educate based on our specialization, connect with clients, and clothe the masses with our 2019 edition Pug socks!
Our first stop is the Arkansas Self Storage Association State Convention in Rogers, Arkansas on August 21st & 22nd!
A Brief StoragePug Quiz About Our Talk Topic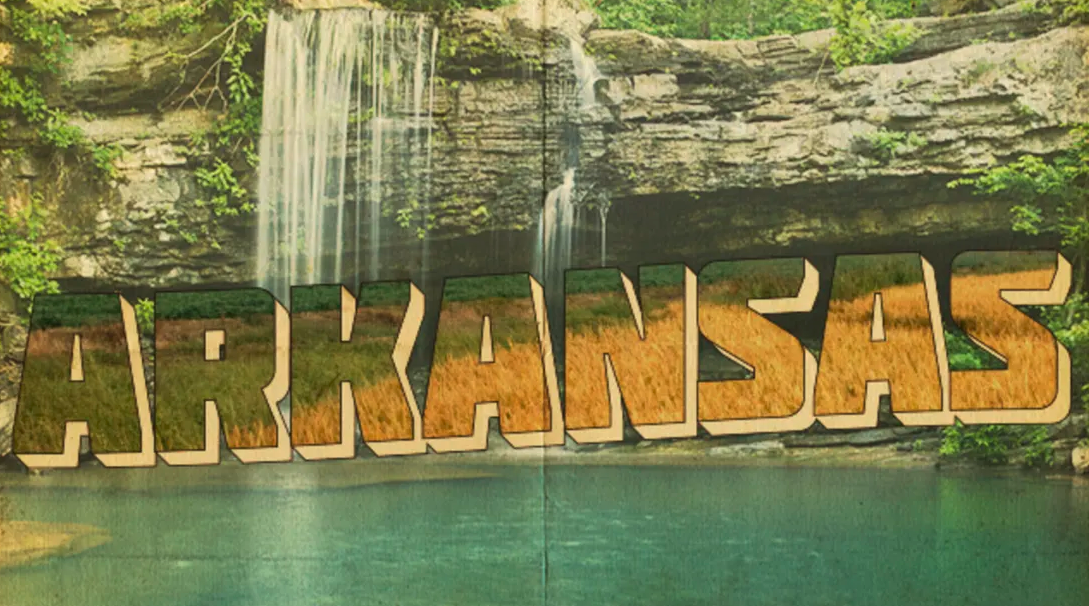 Summertime is winding down.
You can only go to the beach so many times before deciding it's time to get back to focusing on the business decisions that made all those beach trips possible.
All of that sun and sand has brought you tranquility and peace of mind. You see all things clearly.
It's time to take that positive mental energy and channel it into making the best vendor decisions and exchanging industry information and practices.
Thankfully the scheduled self storage trade shows and conventions are approaching.
StoragePug tried to accumulate as much information as possible so that everyone can be as equally excited AND prepared.
More About the ASSA as It Approaches
The state convention, trade show, association extravaganza that we are writing about specifically is the Arkansas Self Storage Association (referred to as the ASSA) State Convention.
The Arkansas Self Storage Association is also quickly referred to as the ARSSA because of the state abbreviation of Arkansas to AR.
This caused some confusion while gathering information about the event, but regardless the ASSA / ARSSA convention and tradeshow will be a fun one.
The mission statement of the ASSA reads as, "The Arkansas Self Storage Association promotes excellence and professionalism within the self-storage industry".
You can learn more details about the organization by visiting ASSA Homepage and the Convention Event Homepage.
What This Means for StoragePug
The end of Summer and Fall of this year will be a nonstop whirlwind for us. We decided to include to our list to present and speak as many cities as possible.
We try to use these events to showcase our potential to be a top self storage software vendor and marketing website tool and page builder.
We are excited that Rogers, AR is a stop on our list.
In addition to the high attendance and scheduled events and talks, the ASSA is the first event for StoragePug along our trade show/convention trail, what an exciting way to kick off the season for us.
Who's Coming from StoragePug HQ
Tommy Nguyen, or more appropriately Tommy Pug, will be at the helm of our vendor booth along with our other product specialists, Zac Pug & LT Pug!
Tommy is also looking forward to giving his own talk, "Marketing Strategies for Self Storage: from Print to Digital", at some point during these two days. We will update this post, our social media, and emails to give further details as we hammer out those details.
Time & Place
As we mentioned, the ASSA Convention is on Wednesday, August 21st (8/21) and Thursday, August 22nd (8/22).
The festivities of Wednesday will be kicking off as early as 8 in the morning and will last until 7 PM. The first day will be filled with a Golf Tournament and general welcoming receptions along with a few lengthy featured speaker talks.
Thursday will have plenty of brief presentations by industry leaders, roundtables, and moments with present vendors. Thursday will be packed, starting at 8:30 AM to ending at 5 PM. Thursday will be nonstop but filled with incredible information to take back to your facility. This information can be used to make progressive decisions to move your operations forward.
The ASSA State Convention will be happening within the Convention Hall of...
Embassy Suites
Address:
3303 S Pinnacle Hills Pkwy
Rogers, AR 72758
Phone Number:
479-254-8400
This particular Embassy Suites is known for its certified and appropriate convention hall in Northwest Rogers, AR.
The ASSA has received a block room discount rate through Embassy, and if you rent before July 22nd, then you will receive the rate of $149 per night. This rate is applicable for guests throughout the dates of August 20th - August 23rd.
The ARSSA and Embassy Suites are offering an extra day on either side of the convention event to accommodate anyone wanting to arrive a day early or stay a day late. You can use this rental window to enjoy the Midwest longer or arrange for better flight rates.
Follow this link to book your room.
With StoragePug and Tommy establishing our own speaking engagement, we felt it was important to not only give a time table of events, but also give some collected information on the highlighted speakers you can catch over the two days of the ASSA Convention.

Wednesday Speakers
Stacie Maxwell
Vice President of Marketing, Training, and Leadership Team, Universal Storage Group
Before joining the Universal family, Stacie accumulated loads of various business experience as a restaurant manager and corporate trainer, an assistant controller for a multi-location brake repair company, and later a procurement specialist for the engineering department of a national granite mining company.
In her current role at USG, Stacie is the Marketing and Training Team leader, and oversees the branding, design, marketing-program planning and implementation for the company, including all offline and online marketing for the entire USG portfolio of storage facilities, as well as the marketing and internal/public communications for USG corporate.
With two decades of experience in the storage industry, Stacie is an integral part of the USG development team, working on all facility-development projects, and is responsible for overseeing the company's award-winning manager training program.
Stacie enjoys speaking at industry events and contributing to industry publications, and holds a BBA in business management as well as a CSSM™ designation from the National Self Storage Association.
John Traver
XPS provides a centralized sales and support center for the self-storage industry. With the leading REIT's all leveraging centralized sales centers, independent owners must have the coverage and tools in place for prospective and current tenants alike.
XPS offers its proprietary payment processing tools and well trained reservation and data support agents to cover the calls many facilities miss. XPS Solutions is designed to support any size self storage facility organization.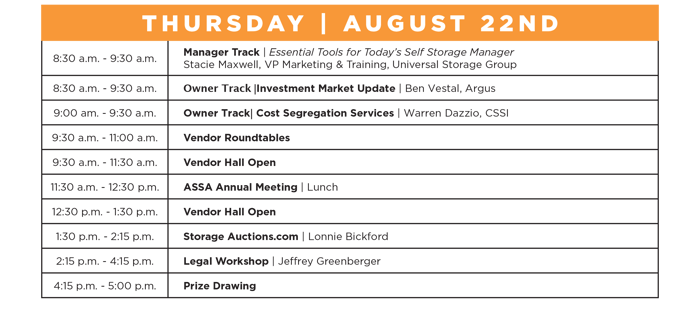 Thursday Speakers
BEN VESTAL
President, Argus
Mr. Vestal has been involved with commercial real estate for the last twenty years. He has been involved in the management, development, construction and brokerage of commercial real estate.
Mr. Vestal has obtained financing for several real estate projects and is familiar with conduit, bank and life insurance company loans.
In 2006, Mr. Vestal acquired an ownership interest in the Argus Self Storage Sales Network, Inc., the nation's premier brokerage network for self-storage facilities, and has been actively involved with the management and growth of the company.
In 2009, Mr. Vestal became President of the Argus Self Storage Sales Network and is responsible for the overall management and operation of the company. He has been involved in over $1 Billion in self-storage transactions and is frequently asked to share his specialized expertise at self-storage industry conventions and meetings.
Warren Dazzio
Executive Vice President of Business Development, Cost Segregation Services, Inc. (CSSI)
As a natural leader, Warren brings ethics and integrity into every aspect of his life and work. He spent the first 20 years of his career in ministry and has a degree in theology from Franciscan University in Steubenville, OH. He later pursued an advanced degree in Business and received an MBA from Louisiana State University.
Warren started and ran his own healthcare company from concept to market and he has extensive knowledge of sales and business development. Warren brings a team mentality to CSSI in supporting extensive sales channels and helping to develop new products and services to bring to the organization.
Lonnie Bickford
Lonnie Bickford has been the owner/developer of five Appletree Storage facilities in the Greater Baton Rouge area.
As a Board Member of the Self Storage Association of Louisiana, Lonnie worked closely with representatives from the National SSA in passing multiple changes to the Louisiana Lien law's.
For the last 15 years he has strived to operate his business with the best practices and processes to streamline daily operations and maximize revenue. His research and experience taught him that by scheduling auctions more frequently, delinquencies went down and collections went up.
As the founder of StorageAuctions.com, Lonnie is working with Owners and Management teams to maximize revenue by using the leverage of online auctions to drive collections to new heights.
Jeffrey Greenberger
Lawyer Extraordinaire
Founded and operating Self Storage Legal as an extension of Cincinnati law firm of Greenberger and Brewer, LLP. Jeff uses podcasts, webinars, and speaking opportunities to make sure owners and operators know everything necessary about self-storage legalities.
See You There!
So much new information and shared opportunities will fill the air at this upcoming 2019 Arkansas Self Storage Association (referred to as the ASSA) / (and often referred to as the ARSSA) State Convention.
The hardest part of attending these conventions is not becoming too overwhelmed with all of the decisions made while planning your attendance, booking your flights and hotels, managing your time between talks and vendors, and then returning home to make decisions for your business further.
We hope this article will help get you in a winning mindset of preparing and making the most out of all this exposure and delight of being surrounded by like-minded people and resources.
StoragePug, Tommy, and the rest of the pugs in tow, are thrilled to be attending this event and launching the second half of our year in good company.
As always, come by our booth to receive our classic socks and shirt swag, or grab a seat for Tommy's presentation.
If StoragePug is unable to fit on your crammed event calendar for this particular show, then know that we will also be at the MSSOA Annual Conference & Tradeshow, the SSA 2019 Fall Conference & Tradeshow, and even more until the end of this year!
Other Hotel Options
If you were unable to book the Embassy Suites in time, there is still plenty of options due to Rogers, AR location, and proximity to the airport.
To find the most convenient alternatives, we tried to utilize high Google reviews to steer all readers to quality options, hopefully.
The star rating is the hotel industry's point system for perceived or measured value, amenities, and customer service for the average guest.
However, Google reviews are the way communities can weigh in on their particular experience. StoragePug only gathered Hotels that over a dozen Google Reviews with an average score above 4.0 (it is out of five, so that's pretty good!).
2 Star
Microtel Inn & Suites by Windham Bentonville
Address:
911 SE Walton Blvd
Bentonville, AR 72712
( 3.1 miles away from Embassy Suites )
Phone: (479) 319-2679
Holiday Inn Express & Suites Bentonville
Address:
2205 SE Walton Blvd
Bentonville, AR 72712
( 2.4 miles away from Embassy Suites )
Phone: (479)-271-2222
La Quinta Inn & Suites by Wyndham Bentonville
Address:
1001 SE Walton Blvd
Bentonville, AR 72712
( 2.9 miles away from Embassy Suites )
Phone: (479)-271-7555
3 Stars
Aloft Rogers-Bentonville
Address:
1103 S 52nd St
Rogers, AR 72758
( 1.1 miles away from Embassy Suites )
Phone: (479)-268-6799
Four Points by Sheraton Bentonville
Address:
211 SE Walton Blvd
Bentonville, AR 72712
( 3.5 miles away from Embassy Suites )
Phone: (479)-715-6388
Holiday Inn & Suites Bentonville - Rogers
Address:
1803 S 52nd St
Rogers, AR 72758
( 1.0 miles away from Embassy Suites )
Phone: (479)-845-1300
4 Stars
DoubleTree Suites by Hilton-Bentonville
Address:
301 SE Walton Blvd
Bentonville, AR 72712
( 3.8 miles away from Embassy Suites )
Phone: (479)-845-7770
For more self storage articles, take a look at:
StoragePug is a modern marketing company for self storage. We create intelligent marketing websites that allow you to rent units & take payments through your facility's website.