For even the most seasoned self-storage experts, planning your marketing strategy can seem like an overwhelming task that is becoming increasingly complicated in the digital age.
Whether you're looking to find new clients, boost revenue, or get your brand name out there, smart and well-designed marketing can be the #1 factor in what makes or breaks your self-storage business.
If you're nervous about elevating your marketing game or have trouble wading through all of the questionable internet information out there, StoragePug's got your back.
Being one of the most comprehensive self-storage marketing companies in the U.S., we've learned a lot over the years, and we wanted to put all of that information into a helpful guide for our customers that will lay out our marketing basics, along with plenty of insightful insider tips.
Sound good? Perfect! Let's get started.
First, we'd like to ask you this simple question:
What is Your Self Storage Marketing Plan?
Perhaps you're answering this question for the first time, or maybe you have some idea about how your marketing plan looks. Either way, there are many aspects you should consider while mapping out your marketing plan.
Before you do anything, you have to develop a clear message.
Consider what your customer is looking for in their storage facility. From our experience, we've noticed that most customers want to know why your facility, what features your facility provides, and what kinds of deals and promotions you're currently offering.
Make your business stand out by researching the marketplace and finding out what you can provide that other storage facilities can't or haven't thought of yet. Brag about your 24-hour monitoring, climate-controlled units, high-tech security, and convenient online payments.
Moving into the brick-and-mortar aspect of your business, consider how you're displaying yourself to the local community. Make sure you have outstanding curb appeal, clear signage, and easy-to-understand reader boards so customers can get a quick idea of what you offer.
Again, standing out in the real world as well as the digital world is critical.
Thirdly, it's essential to target customer personas. Remember, you want to know as much about your clients and potential clients as possible. By categorizing the different types of customers you have into personas, it becomes easier to understand them at a high level.
Some important questions to have answered are:
What outlet did the potential client find you through?
What's their average length of stay?
What are the demographics of your clients?
All of this information is crucial to understanding how you should develop your marketing plan.
Why Does My Storage Facility Need Marketing?
StoragePug has some clear and concise answers for you!
Think about it this way:
If marketing brought your facility just one rental per week that would net 52 extra rentals per year.
52 rentals!
Consider how much more revenue this would bring in for your business and what that kind of consistent new clientele would do for word-of-mouth advertising.
The average customer looks at 3 – 5 storage facilities before they make their decision. Because we know that self-storage is a need-driven market, it is inevitable that they're going to pick one.
Customers have a variety of storage facilities to choose from when they're looking for their perfect unit, so it's essential to make your storage facility their #1 contender.
Remember this: it nearly always costs more to have empty units than to pay for a successful marketing strategy. With successful marketing, you will be the mainstay in your market for tenants looking for a storage facility.
So, with all of that in mind, StoragePug is going to break down your self-storage marketing plan into:
7 Crucial Categories
1. Marketing Website
Overview
A modern website is essential for any business looking to succeed in the 21st-century marketplace and self-storage facilities are no different.
Your website is your first impression to any potential client, so it's critical that you make it as attractive and easy to navigate as possible.
Just as you look after the curb appeal of your facility, you should make sure you have "online curb appeal" as well. Your website is the first part of your business many who are searching for a storage facility will see.
Maybe you're aware that now over 80% of internet users own and regularly use a smartphone so not only is it essential to make sure that your website is smartphone-friendly but also that it is immediately engaging and accessible to viewers on the go.
To make things easier, StoragePug suggests you think about your marketing website in 3 easily-defined ways: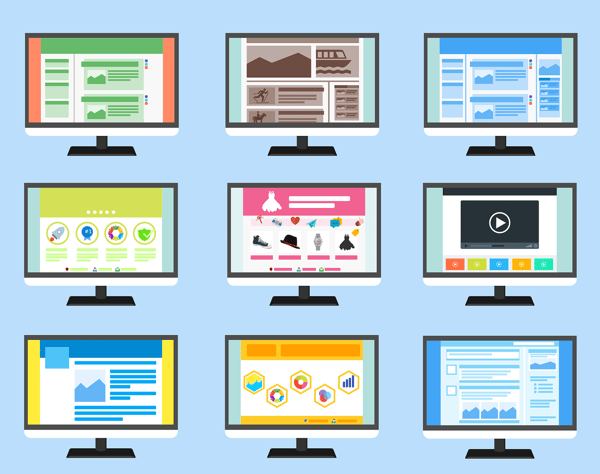 Integration
One of the best ways to streamline your rental process is to use self-storage management software.
These systems offer comprehensive management tools that allow facility owners to move customers in and out of units, process payments, supervise accounting and budgeting, create customer profiles, and much more.
With a fully integrated website you can accomplish more than a self storage kiosk, without the burdens that come with a kiosk.
There are many things to consider when choosing which self storage management software to use.
StoragePug recommends the following platforms:
Analytics
Analysis is essential to marketing as it shows what works and how well.
Start off by using call tracking software, like the kind offered by CallRail, that helps you generate sales calls, match a caller to a visitor on your website, analyze your calls to identify good leads, and turn your call recordings into speaker-organized call scripts for quicker insights.
On the web end of things, Google Analytics and Google Tag Manager are two industry standard systems that will help you immensely with your analysis game.
In their own words, check out what Google Analytics can do for you: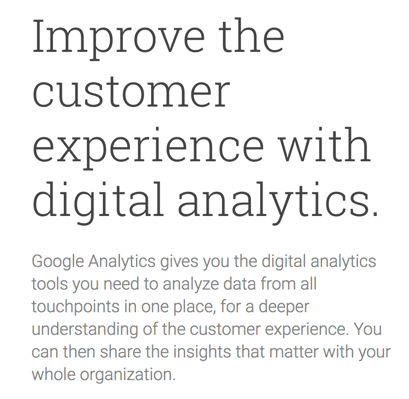 To give you a better idea of how these tools work, Google Tag Manager allows you to easily update HTML and JavaScript tags on your website without having to deal with a lot of messy code. This frees you up from hiring a developer each time you need to make updates and assures that there won't be any tedious minor errors.
Google Analytics helps you track your potential customers' activity on your site so you can find out exactly where on your page they decided to click off. Arming yourself with this knowledge allows you to troubleshoot your website layout, so it's more conducive to customer interactivity.
To use Google Analytics to its fullest potential, you should understand which Key Performance Indicators, or KPIs, you should look for in your analysis.
StoragePug suggests you monitor the following:
Organic traffic
Paid traffic
Delinquency
Insurance up-sells
Discounts
Revenue collected
Also, know if your website is ranking for the right keywords by using keyword research and analysis tools like KWFinder, Google AdWords Keyword Planner, SEMrush, or Moz's Keyword Explorer.
One last thing to consider is your aesthetics. Make sure that whenever you use an image that it is exceptionally high quality.
Like this one: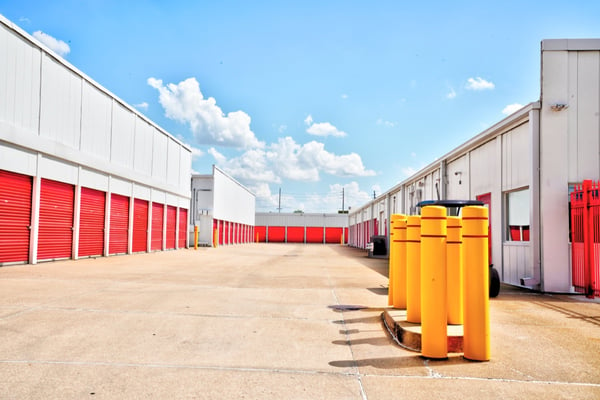 However, investing in a professional photographer for images of your facilities and a professional designer for your logos is always a smart idea. You'll probably want to include a variety of photos on your site, as suggested by this article, like facility photos, team photos, stock photos, and custom graphics.
Pro tip: Consider using drone videography to capture your facilities set-up. This will give your customers a unique and dramatic view of your business.
Remember, you want to stand out, and details like this can make your website pop!
Online Payments, Rentals, & Lease Signage
One sure-fire way to increase occupancy is to allow customers to pay online directly.
Through platforms like StoragePug's Rental Station, you can efficiently set up an online rental system where customers can search for a unit, sign their lease, and make the first payment on their storage unit without ever having to leave their home.
This means that you can convert leads into paying tenants in a snap and reach a wider audience, including people who are moving to your town from out of state.
Online payments also decrease delinquencies and increase tenant happiness by allowing them to sign up for auto-pay and sign-up for text reminders when their bill is due.
StoragePug has the only payment portal for self storage facilities that is branded to your facility and built directly into each one of our websites.
It makes it super easy and convenient for tenants to pay their bills from their cell phone or web browser.
2. Revenue & Reputation Management
Revenue Management
Managing your revenue can be tricky, but coming up with a plan and sticking to it will help keep things simple yet effective.
One suggestion is to hook yourself up with a software program like Radius that analyzes over 20,000 competitor rates and keeps you up-to-date with where your pricing stands on the national and local level. This allows your self-storage business to remain competitive and to optimize your economic occupancy.
The cycle roughly goes like this: when occupancy is very low, use self storage discounts and specials to get as many people in the door as possible. As stated earlier, empty units are expensive.
Next, as your occupancy starts to rise, determine the more popular unit types by looking at unit occupancy rates. Keep the unit types with lower rates aggressively priced, but raise the rates on the more popular units types.
Eventually, you should be close to 100% occupancy. The last step, which is a continuous process, is to keep your economic occupancy within 10% of the lower of your unit or square-footage occupancy. This means continuously raising your rates when possible.
You can also execute strategic customer rate increases based on:
Time of year
Trends from past data
Trends from competitor's rates
How Do I Handle Bad Reviews?
It may sound like a dicey proposition, but most PR pros say that it's better for business to respond to online reviews whether they're positive or negative.
Regarding a negative review, remember to be honest, address the issue, provide a solution, and make sure your tone is professional and congenial. Do not ever get into a back and forth with a client or engage in bashing them just because they're bashing your facility.
Moreover, don't let the negative reviews get you down. They're bound to happen for every business at some point. Instead, focus on turning them into new customers!
Finally, when it comes to online reviews, know your rights. If reviews are illegal or violate the site's terms of service, you can have them deleted.
Yelp, for instance, provides three main reasons why you might want to report a review: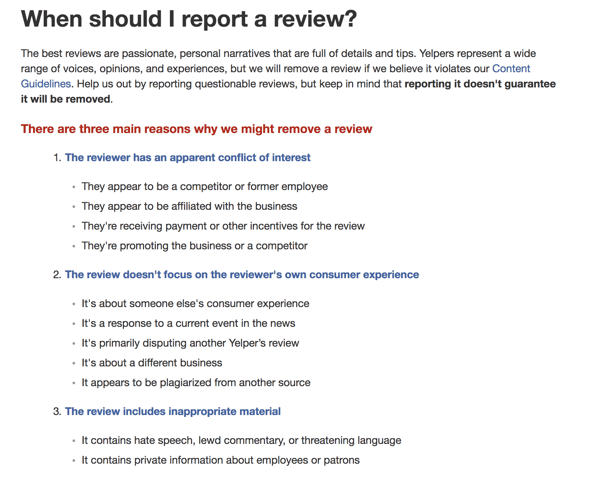 How Do I Get Good Reviews from Customers?
This is where your customer service relationships are so crucial.
Always make sure that your facilities are well-maintained and that your customers' interactions with employees exceed expectations.
A well-trained and managed staff is the cornerstone to making sure this happens on a regular basis. Train your employees in customer service and make sure that you and your supervisors hold them to this standard day in and day out.
You can also incentivize your managers with various perks to encourage them to ask customers for reviews. This could be as simple as providing a bonus for every review they produce or a certain number of paid hours off for encouraging customers to post online.
Emailing tenants regularly to ask them to leave reviews is another smart way to build successful online feedback.
Come up with an email that is somewhat personal, concise, and always ask what makes your customers the happiest about your business.
Remember to link to a popular online reviewer site to encourage them to leave a review and don't send out a ton of emails a week.
No one wants to be hounded by a business for his or her feedback.
You can also use top-notch services like Podium to send text messages to your clients that ask them to leave reviews for your business with minimal hassle on your part.
StoragePug recommends that you take a look at their site and see what they have to offer you.
If your facility has a number of good reviews online you want to make sure those reviews are displayed directly on your website!

An experienced web developer can make sure those reviews show up directly on Google Searches! Google has "Rich Snippets" which can display your review stars and the price range for your units directly in search results.
Review stars in search engine results significantly improve click-through rates, by as much as 35%.
CXL Institute Study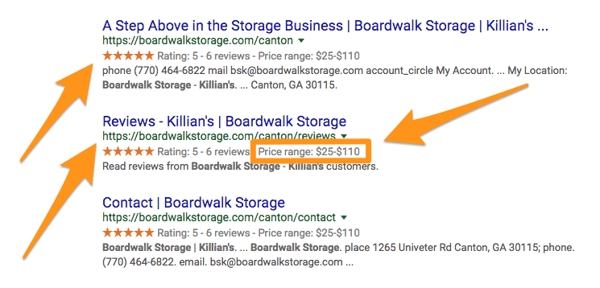 3. Digital Marketing
Online PR
Online PR is the practice of securing online coverage with digital publications, blogs, and other content-based websites. It's a lot like traditional PR but in the online space.
The best ways to maximize your PR efforts are to
Engage comments on your website, reviews, or blog
Post to social media
You should also consider:
Adding Live Chat to Your Website
Live chat works for self storage businesses!
By adding live chat to your website, you can talk directly to web visitors who are thinking about signing a lease and convert them into leads or customers.
Live chat can also cut back on your expenses by allowing managers to talk to potential clients while completing their regular work.
Customers always appreciate the convenience of being able to reach out to your staff immediately for help and this appreciation will convert to sales and longer stays.
Chatbots
Chatbots are super handy because they can prequalify clients when you're not in the office and auto-respond to questions without any fuss.
Think of them as a courteous and efficient employee that you don't have to pay.
Self Storage SEO
When discussing SEO best practices, the first thing you want to talk about is keywords. StoragePug recently wrote a comprehensive article about how to choose the right keywords for your self-storage website.
Here are three highlights from that piece:
Use Google Search Console and Moz Keyword Explorer to search for popular keywords.
Choose keywords with low competition and high volume.
If you don't have an expertise in SEO best practices, it's probably worth it to hire someone who does.
Ranking high on Google searches can provide a serious boom in your business.
Next, meta tags are crucial to your SEO game-plan. They can be a little difficult to explain, but basically, meta tags are page data tags that relate specific information about your page to the browser and web crawlers.
Meta tags don't show up on your page but are included in your site's code so if you aren't super tech-savvy; it's best to get someone who is to figure this out for you.
However, if you want to know what to ask your hired computer geek about, the two most important types of meta tags are title tags and meta descriptions.
Your title tag is the big bold blue title that shows up when you Google a site.
Like this:
When choosing your title tag, make sure that you use your most crucial keywords, keep it under 70 characters, and use this symbol: | (aka, pipes) to separate phrases rather than commas, dashes or other punctuation. A colon is fine as well for presenting a phrase after a keyword as show above
Meta descriptions are the text beneath the big blue title that sums up what your business is about.
Make sure your meta description is written with an active voice, keyword focus, concision, and it helps include something actionable. For example, "Click to discover more!"
What about converting your site to mobile devices?
As we said before, mobile phones are used by nearly everyone these days, which means that lots of potential customers are going to be seeing your site for the first time on their cell phone.
That's why you need to optimize your mobile responsiveness design. By doing so, your website can be accessed easily from a cell phone.
StoragePug suggests you check out Google's Accelerated Mobile Pages Project (AMP), which provides lightning fast digital content delivery and conversion.
Next, we suggest you try to get into the Google local 3 pack.
What is this?
In short, it's the top 3 local sites for whatever you're googling. For instance, when I google "storage units Miami" here's what comes up: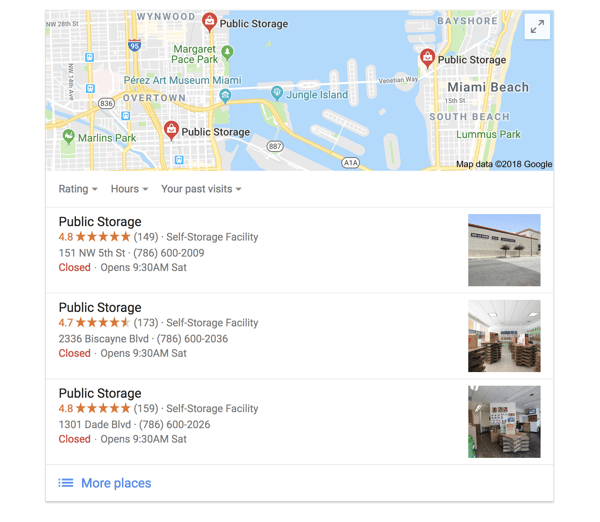 These sites are in the coveted Google local three pack.
To rank here, you want to use SEO best practices, acquire lots of positive reviews, get linked from other local websites and sign up for directories and listings in your area. Most importantly you want to claim your business on Google.
Finally, setting up your website with structured data helps Google understand the content of your site and rank it accordingly. In simple terms, this is a standardized form that structures all of your page's pertinent information.
The better structured it is, the better Google can move you up in the ranks. It's a bit of a complicated procedure so if you want to read up on structured data click here.
Remember, a comprehensive SEO strategy is a long game. Most pros say you should give it a minimum of six months to see results, but probably you're looking at closer to a year.
Don't blow it off though. This is a long-term marketing strategy that can undoubtedly yield impressive results if you give it the time.
Social Media
Of course, Twitter and Facebook are the standard-bearers for well-trafficked social media sites, but there are a ton of other options out there, and innovative marketers are using these newer sites to get their name into the world.
Take your brand to Instagram, LinkedIn, Reddit, YouTube, and Pinterest. Having a comprehensive social media strategy that spreads your company's face across many sites allows you to reach a diverse range of potential customers and convert them to leads.
Develop a plan and get posting!
Text Reminders
We already talked about how text reminders can notify customers about when their bill is due and how helpful that is for them, but you can also use text messages as digital marketing tools.
Keep your customers apprised of important news, events, promotions and notify leads about your pricing and features through text reminders. It's direct access to your clientele with very little work. Another way to engage your customers is offer referral incentives. A monthly discount is a great way to get your tenants to market for you.
Discounts
One creative way to provide your customers with discounts is to incorporate text message campaigns into your digital marketing strategy. For instance, in 2011 Redbox offered their clients a discount on their next rental that was between $0.10 and $1.50 if they texted DEALS to the company's SMS number.
Over ten days, they received 40,000 customer interactions, creating an astonishing amount of new revenue.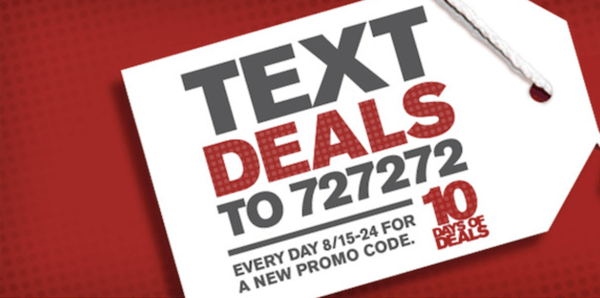 Source: Redbox
Keep in mind that we're beyond the age of the coupon and successful marketers are finding creative ways like this to incorporate tech into their promotions.
Marketing Automation
If you're unsure about hiring a dedicated marketing coordinator, marketing automation is probably the right move for you.
You can use software like Hubspot, Infusionsoft, Totus, and Net-Results who have multi-step marketing campaigns that can automate newsletters, social media posts, and provide you with well-analyzed customer relationship management(CRM) data.
Think of it as an in-house marketer that is always there for you.
Here is 7 quick ideas to help you market your storage facility.
4. Paid Ads & Pay-per-click (PPC)
Determine Your Budget
Most successful businesses spend somewhere between 3 - 6% of their gross profit on paid ads.
In the digital age, PPC, or pay-per-click advertising, is the most popular and potentially lucrative investments that your storage company can make. With this tool, you pay the advertising platform per each customer click.
This helps you measure your return on investment (ROI) and optimize your ads for higher relevancy by providing you with data about whoever had clicked on your ads. This includes how long they interacted with the ad, when they clicked off and where that particular user's location.
StoragePug suggests you figure out what is the most bang for your buck in terms of PPC advertising by comparing costs between first-tier search engines like Google Ads, Bing Ads, and social media sites like Facebook Ads and Twitter Ads.
Creating Your Ad
Always remember that the internet, generally speaking, isn't a formal venue and your ad copy should reflect this. Make your voice casual, engaging and don't worry too much about out perfect grammar.
You don't want your customers to think you're uneducated or lazy, but internet language doesn't involve the perfect placement of a semi-colon or stressing over a dangling modifier.
Also, make sure you're making multiple ads for different target buyers or personas. Know who your clientele is and break them up into meaningful categories that you can use to direct your advertising.
5. Offline Marketing
A Successful Manager
Your marketing starts with the in-house face of your business—your manager. Because so much depends on first impressions, you have to train your managers with your marketing strategy in mind.
Some helpful tips are to make sure that your manager is always well-groomed and friendly to your customers, that they have professional sales experience, and that they understand the value of your storage units.
Training your manager with an eye toward sales will add another marketing specialist to your business and ensure that your customers are always receiving the best service possible.
Check out this quote by digital strategist Jason Falls about offline influencers: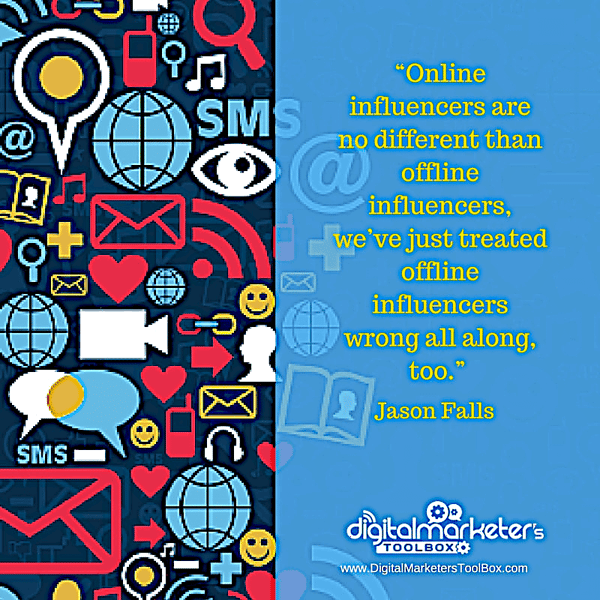 Source: Digital Marketer's Toolbox on Best Running
Flyers & Billboards for Self Storage
Though most people get their information from the internet these days, you should make sure that you have a significant presence in the real world as well as flyers and billboards are one of the best ways to start.
Use programs like Canva or Vistaprint to create eye-catching and professional flyers for little to nothing.
Billboards are a great way to make sure your storage business is noticed in your neighborhood. Advertise on busy roadways near your facility, so potential customers are aware that you're right down the street from them.
Pricing for billboards depends on your area so do some research on what the most cost-effective options are for your business.
Radio, TV, & Podcast Marketing
Traditional media marketing is still a viable option. Consider hiring a professional company to create TV and radio spots for you.
Sponsoring shows that you think will reach your customers is also a genius idea and requires less time and money on your part because you don't have to come up with a professional commercial.
Also, consider podcasts. According to business.com, 24% of consumers in the U.S. listen to podcasts, and they don't just listen to them every once and a while—they binge them.
Advertising on a popular podcast means that your company's ad could be on a continuous loop in millions of listeners' heads a day. Plus, there are so many different genres of podcasts that you can reach a wide variety of customers.
Are Yellow Pages Ads Still Effective for Self Storage?
Most marketing pros say… not really. Here's the deal—if you have older, local clientele than it might not be the worst idea, but otherwise, stick to more popular digital platforms.
Just ask yourself: When was the last time you looked in the Yellow Pages? When was the last time you went onto Yellow Pages' website? Probably not recently.
Also, they have minimal resources for monitoring who is looking at your ads, which makes it more difficult to tailor your marketing game to your potential customers.
6. Self Storage Community Marketing through Sponsorships/Events
Making a name for yourself in your community is a super important piece of your self storage marketing strategy. Consider giving discounted rates to local charities or other organizations.
Support sports teams in your area to get your name out there. Start your own charity by accepting donations for a cause you support.
Check out how a listing of community organizations can spruce up your webpage.
Affiliate marketing is also a great way to create new revenue streams. You can either set up an affiliate program to entice promoters to market your product or promote another company's product on your website or at your facility.
This article will give you the nitty-gritty if you have more questions about affiliate marketing.
7. Measuring Your ROI
Keeping a close eye on your return on investment (ROI) will show you how your marketing strategy is working for you in dollars and cents. Lots of marketing specialists agree that ROI is one of the most critical key performance indicators for your business.
Here's how investopedia.com breaks it down:

Tracking Your Leads
Keeping track of your leads is crucial to understanding how potential clients have found your page and which ad platforms are paying off for your business or which platforms are maybe unneeded.
Acquisition Costs
Especially for storage companies, acquisition costs are something that you want to understand with as much depth as possible.
In short, acquisition costs is the total cost that a company recognizes on its books for a new tenant after adjusting for incentives, discounts, and other marketing expenditures but before sales tax that
Knowing how much your units and other assets are worth after all of your marketing moves is integral to making sure you turn a healthy profit next quarter.
First & Last Touches
Big time marketers often claim that it takes seven touches to convert a cold lead into a paying client. That is, the potential client needs to be "touched" by the company seven times, whether it's through flyers, internet ads, radio spots, etc., to convert them.
Recently, marketers have taken to single attribution methodologies or what some people refer to as first and last touches.
First touches attribute all of the value of the lead to the primary source that touched the deal. If a new client is referred to your company by the manager of your facility, then they would be the first touch.
Conversely, the last touch allocates all credit to the previous source that touched the lead. So if your new client saw an internet ad first, then talked to your manager, then went to your website to get more information and take advantage of some incentive you were offering, attribution would go to your website as the last touch on the deal.
Check out this survey from the CMO Club from their 2014 "Building Bridges to the Promised Land: Big Data, Attribution & Omni-Channel" guide: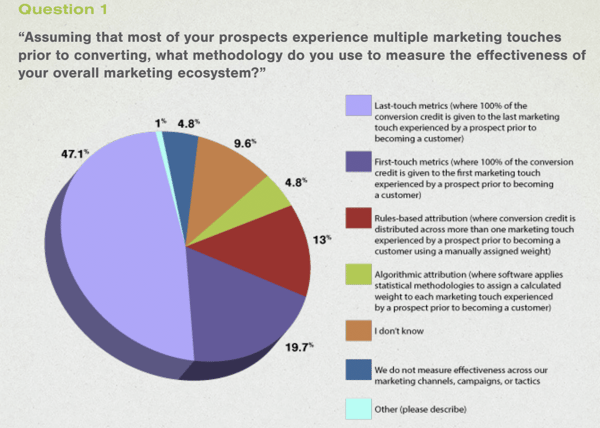 Though the first and last touches are helpful for discovering where your lead began and where it ended, they don't account for all of the ways that your customer was nurtured before they committed to a unit.
If you're trying to figure out where your customer came from and what made them seal the deal, the first and last touch attribution is for you. If you want to find out how they were helped out along the way, then you might want a more comprehensive strategy.
We Hope This Helped
StoragePug is confident that if you follow these seven guidelines for marketing, you'll watch your customers and revenue start stacking up.
Though we all want immediate results in the digital age, always remember that marketing is a long-term game that might take months or even more than a year to see results. Whatever you do, don't get too discouraged if you aren't piling new customers hand over fist in your first couple of weeks.
Trust us; they will come.
So please drop us a line anytime and visit storagepug.com for all of your storage marketing needs.