Google's "3 Pack" is a list of three competing businesses serving local customers in a particular city or town. It includes the businesses' phone numbers, their review score, and other information.
You can click one of the three businesses to get more information about it. Besides paid advertisements, the 3 pack is the first thing you see on a Google search engine results page (SERP).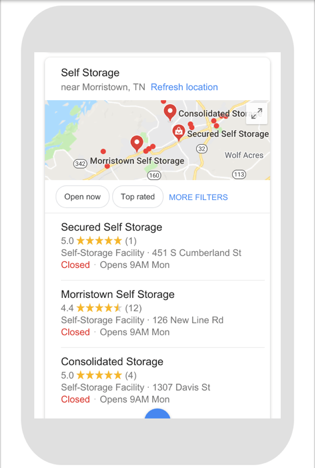 You have probably seen the three pack before, but you may not have realized how valuable the three spots are. Because it determines what Googlers see first, being in the three pack is a key objective for businesses that serve locals. It's free to show up in, but there's typically lots of competition. Let's discuss what you can do to improve your chances.
What Determines Which Businesses Show Up in the 3 Pack?
Google says there are three things its algorithm uses to decide which businesses show up.
Relevance

Distance

Prominence
The first two items point to what you'd think. Relevance means how closely your business corresponds to the keywords used in a search query. When someone searches for "Cuban restaurants in Philadelphia," Google won't show an auto dealership in the three pack.
You might see Manolo's Cuban Cafe in it, however. Distance, of course, means proximity to the person searching.
If a business is too far away in comparison to other businesses, there's no good reason for it to show up in the three pack. Google tries to keep the relevant business results within a close radius, only increasing the size of it if there are no competitive (in terms of the algorithm) businesses within a smaller scope.
The meaning of "prominence" is less straightforward than the other two factors. Google says prominence refers to how well-known your business is. It guesses how well-known you are by finding out how many links to your site exist on the web and by counting the reviews your business has received, putting more weight on positive reviews than bad ones.
SEO improves prominence too, according to Google. Optimizing your website for search engines can help you get into the pack more often. However, reviews are thought to be the most critical factor besides distance. We rarely see any businesses in the 3 pack without lots of strong reviews.
Get Your First Reviews and Optimize Your Relevance
To prove you're relevant to consumers who might be searching for you, completely fill in your Google My Business profile and update it whenever something changes (e.g., business hours, slogan, etc). You'll need a My Business profile to get Google reviews. Make sure you're listed in the right category. Try to keep your information consistent across all sources, meaning the phone number and other information on your website should match the information you enter into Google My Business.
How to Get More Reviews and Get Into the 3 Pack
Google is arguably the most important place to get reviews because of its influence on local SEO. It's where most people search for local products and services. Make reviews on Google your priority.
Gathering reviews on Yelp and Facebook is somewhat beneficial too. If you list units on Sparefoot or SelfStorage.com, getting reviews there helps as well.
There are many ways to get reviews, but keep them authentic. Purchasing reviews or even asking friends to write reviews for your business could get you flagged by Google, which would undo a lot of your progress toward 3 pack real estate.
Instead, you can ask your customers to give you honest reviews. You can even offer a discount or other incentive for doing so. Offer some branded swag in exchange for reviews, for example. For more ideas, see this article by Yotpo.
When you start getting reviews, don't just leave them there. Respond to them. When you get bad ones, apologize and offer ways to resolve the mistakes you've made. Remember, it's best to get to conversation off of the internet as fast as possible.
When you get glowing reviews, let your customers know how happy you are that you've pleased them and welcome them to do business with you again.
First Steps for Storage Companies
If you don't have accounts for the following, create them. Take your time to fill out your profiles carefully. You can always ask a reputable marketing company for help if you need it. Here are some links to get signed up.

For more information on how to respond to reviews and to see a practical example of why storage companies might show up in the three pack, read our post entitled "Monitoring Your Reviews."
Not only will good reviews improve your visibility on Google search engine results pages, they will also help you win new customers over. Search Engine Land says "88% of consumers trust online reviews as much as personal recommendations" and "positive reviews help them trust a local business more" about 72% of the time.
You'd be surprised how many storage businesses have only a few reviews or none at all. Get ahead of the pack. Or, shall we say, get into the 3 pack!
To read more about my favorite StoragePug features, take a look at: