Self storage facilities, for the most part, serve local renters. We satisfy the needs of our community. That's the basic composition of local business, even if somewhat oversimplified. We know, however, that things are really more complicated than that.
Technology has changed the way consumers find and relate to businesses and brands.
Facebook, Yelp, Instagram and other information-age applications have added complexity to marketing and advertising. You don't necessarily need a top-notch strategy for all of those applications to find new local customers, but the Google 3 Pack can be a bit tricky to find your way into.
It's that neat little rectangle containing 3 businesses, a map and contact information.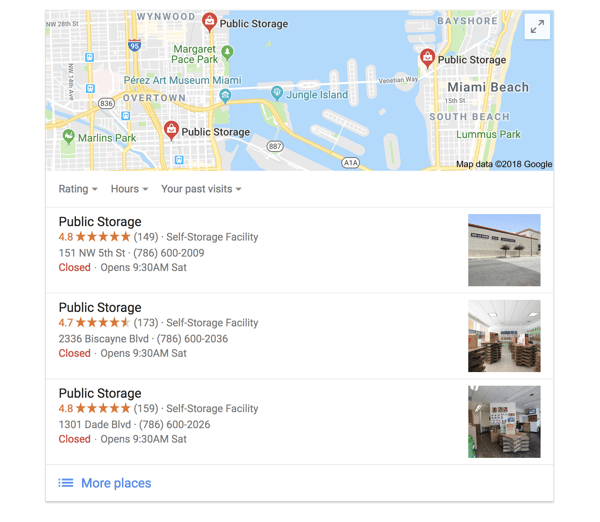 As a local business, one of your objectives should be to show up in the 3 pack often. Why? There's a 2-part answer. Here's the first part.
Google processes a whopping 63% share of search queries.
That's big! We assume that about 63% of local consumers will use Google when they search for a place to store their stuff, likewise. They're no longer getting a bunch of vaguely relevant search results, either.
Today, Google has a better idea of what you're looking for. Even if you don't tell it you want local results, it knows. It infers when searchers are looking for local businesses, such as storage companies.
You want to be somewhere on the page when someone's looking for you. If you're not there, your direct competitors will be.
Here's another statistic that sums up the second part of the answer to our question.
The first 3 things on a Google results page receive 47.79% of clicks. (Dec 2017)
Since the first three results for local searches make up the 3 pack, about half of all local search clicks are directed towards businesses in the pack.
If you're not there, your chances of getting a website visitor or phone call could be cut in half, in other words.
Let's do the math here. 63% of searches are made on Google and about half of all clicks are on listings in the 3 pack. That means about 31.5% of all searchers end up clicking something in the pack, or nothing at all.
Of all consumers looking for local services using Bing, Yahoo, or Google, around a third will click on the Google 3 pack. But wait, that's not the whole story. Although we don't have data to prove it, we assume the percentage is significantly higher for self storage searches. Let us explain.
Storage companies aren't very easy for consumers to differentiate from one another. A search like "restaurants in Manhattan" would have a lower rate of 3 pack clicks because the person who searched is likely to be looking for something that didn't show up in the pack. He or she may scroll past it to find something more "niche," like a Japanese grill with a rooftop bar.
Storage is more of a commodity, at least in the mind of an average consumer. It's essentially just space. Even though some storage companies do a good job offering a range of storage types and amenities, a typical searcher probably won't have those things in mind and is more likely to just click on the first listing they see. One of the first things they see on the page, of course, is the 3 pack. See the logic there?
All of that being said, don't stress if you're not in the 3 pack right now. The results are heavily dependent on location. Even if you don't see your business, someone close by might see it. Someone who searched a slightly different phrase might see it as well.
If you're versed in local marketing, you may know that advertisements show up above the 3 pack when businesses are advertising products or services that correspond to a search query.
To read more about my favorite StoragePug features, take a look at: