StoragePug is a modern marketing company for self storage. We create intelligent marketing websites that allow you to rent units & take payments through your facility's website.
Local SEO is one of the most important things you can do for your self-storage business.
About 80 percent of your potential customers will search online for self-storage companies before selecting one to call and give their business.
If you aren't using local SEO techniques, they may never know your facility even exists.
There are a lot of different aspects of local SEO that can come into play. Your ultimate goal should be to get into the "Google 3 Pack", which is the list of three businesses featured first on the Search Engine Results Page (SERP), as in the example pictured below.
If your business lands in the Google 3 Pack and stays there, your customers will flock to you.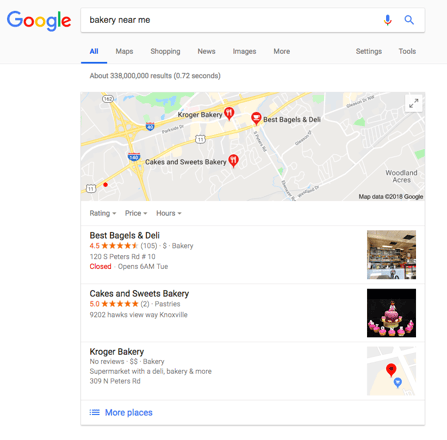 The Google My Business Listing
Your first and most important job in local SEO is to claim your Google My Business Listing. While Google is sophisticated enough to pull information from your website to populate your listing, they don't typically do so.
There may be a listing already in Google for your storage facility, but if you don't claim it and input information like hours and services, it will not do you any good in local SEO.
Local Search Terms
Search engine results are generated by matching your customers' search terms with words found on your website.
It's easy enough to incorporate search terms like self-storage and public storage into your website content. However, what people are searching for is "near me" or "in (location)."
If your website content is not optimized for your location, you may not be getting the local SEO results you are looking for.
Keyword research is important when it comes to optimizing your content. You don't need to spend a lot of time on this, but it is definitely helpful. Different areas of the country refer to storage facilities in different ways.
Researching which terms relating to self-storage are being searched for most frequently in your area gives you a starting point to optimize for your local results page.
Content is King
How you use your search terms is as important as the terms you choose for your local SEO. You'll want to include your most important search terms, such as "self-storage in Indianapolis" in headers and subheadings throughout your content.
You also want these search terms to be included in metatags and title headers.
Make sure that your content offers relevant information, however. It should offer some value to the reader beyond simply providing search terms, or Google will not grant you access to the top rankings.
You must also be careful to avoid keyword stuffing, which is using a keyword or phrase many times throughout the content.
Link Building and Citations
Local SEO is also dependent on link building and citations. The more websites that include a link to your site, the higher you will place in the SERP. You can get links to your site by getting your storage facility listed in business directories and commerce websites for your local area.
Citations like business directories will help you place in local SERP, but you will also want to try to get contextual backlinks to your website content.
Manage Your Reviews
Google reviews are a big part of your local SEO. You want to make sure that you are responding to every review that is left on your Google My Business listing. If you get a bad review, do your utmost to make the situation right.
Respond with kindness and professionalism, and try to find a way to turn the review around. The more positive reviews you have, the better your placement in the SERP.
Maintain Your Results
These tips will help you with your local SEO initially, but you have to maintain the effort to continue to get results.
Frequently posting new content to your website, such as having a blog, will help you tremendously in staying high up in the SERP. You will also want to make sure that you keep up with reviews, get new backlinks frequently, and keep your Google My Business listing updated.
Check out more of my favorite StoragePug Digital Marketing Posts: