Part 2: Streamlining Your Storage Facilities Operations
Whether you've been in the storage business for a number of years and are looking to expand, or you're thinking of opening your first self-storage facility, the path to success can be a difficult one fraught with unforeseen obstacles and complicated questions.
Though breaking ground on a new self-storage facility can seem like a daunting task, there are quite a few common problems that most self-storage owners go through, and StoragePug has been in the business long enough to know exactly what you're going to face out there.
Because we take our clients success seriously, we've created this nifty guide to help you navigate the possibly treacherous waters of self-storage investing and ownership.
We hope to equip you with the tools you need to own the self-storage facility of your dreams, so if you're looking to jump into the biz, this is the best place to start!
To make things easier, we've broken up this guide into 2 parts. You can find Part 1 here.
Now we'll break up this second section into 8 topics to keep things as clear as possible for you:
1. Understanding your Target Audience
The smartest thing you can do, in terms of targeting your ideal audience is to aim for attracting people that live or work near your facility.
Some ways to do this are to make sure you have excellent location visibility, billboards, or other signage that will really stand out. Flyers to pass around or hang up in highly-trafficked spots in your neighborhood are important also.
Pro tip: Claiming your Google Business listing for your facility puts you on the radar of people who are Googling self-storage facilities in your area.
Here's what Google, themselves, has to say about it.
While we're on the subject of the internet, we should probably discuss targeting your online audience as well. The best way to nab some customers off the web is to make sure that your site has an easy online rental process that displays your current prices and offers your current discounts that are competitive with other self-storage facilities in your area.
Check out this article about performing an operational audit to make sure that your facility is running as efficiently as it can and see where you might be able to improve certain areas.
2. Insurance & Protection Plans
Benefits for You
If you didn't know, providing insurance for your tenants will boost your profits because insurance providers will pass along some of the revenue they collect for getting your clients to sign up.
The Storage Facilitator and Keith McConnell from MiniCo Insurance Agency breakdown tenant insurance like this:
That's a lot of money coming in plus you're increasing your and your tenant's peace of mind.
It's a win-win!
Benefits for Your Tenant
Most tenants don't realize that they're by and large responsible for their belongings and barring certain unforeseen circumstances, they won't be reimbursed if something happens to their possessions.
Some self-storage owners are hesitant to tack on an extra $8 or $10 to their monthly rates because they feel like their customers won't pay it, but if you explain to them that this mere 8 or 10 bucks a month could get them up to $2,000 worth of coverage, who wouldn't want to do that?
Also, consider that these incentives might even get people in the door!
Tenant Insurance vs Protection Plans
Besides the extra revenue stream provided by tenant insurance, it also allows you to focus on your real business, renting storage spaces rather than dealing with breakage complaints, lawsuits, or insurance policies for each one of your tenants.
Protection plans don't offer an extra revenue stream for you, but they may be helpful if you have a number of clients who don't want to pay for tenant insurance. Protection plans require that you pay into an insurance company and then if something breaks on your property, you'll have it covered. While this might cost some extra dough, it's an easy way to make sure your back-end is covered.
Check out this article for more info on signing up your clients for tenant insurance.

3. The Ins & Outs of Rate Management
How to Fill Empty Units
One of the smartest ways to fill up some empty units is to make sure that your potential clients can book their units online. This lets possible tenants claim their units as soon as possible and make the move-in process seamless for them.
Plus, most people, these days, want a modern, mobile-friendly experience with just about every one of their consumer interactions.
Another important online tool is to get yourself some pay-per-click campaigns (or PPC, for short) that are focused on driving rentals to your business.
Here's how we explained PPC advertising in a recent article on StoragePug's blog:
Pay-per-click (or "PPC" for short) advertising is just one of the many new technologies available to self storage owners.

PPC ads are a great way to focus on a target self storage audience and get your message in front of it as quickly as possible.

How does it work? PPC advertising lets you serve a message to audience members based on demographics or search terms — depending on the network you choose.

As you may guess from PPC's name, you only pay when audience members click on your ad.
Also, urgency badges are a great tool to increase online conversion rates on your site. The way it works is when your storage units start filling up, your customer will be alerted about how many are left. This creates a sense of urgency and prompts them to book the unit sooner rather than later.
Pro tip: One easy way to snag some more customers is to offer them a free move-in truck when they rent a space. This is a nice perk for your customers and will give you an edge over your competition.
Discounting Units
Sometimes you have to be a little creative to get customers in the door. For example, a dollar move in rate can help increase occupancy. People pay the dollar to move in and then in a month, when the price returns to normal, they don't want to deal with the hassle of moving all of their belongings out.
StoragePug recommends that you definitely give out a military discount. In the United States people feel strongly about their military, so not offering military discounts could get you a bad review. Plus, what's a couple bucks when you are helping out a serviceman or woman?
Increasing Rates
Whenever you are hitting close to the 90% occupancy mark, it's a good idea to increase prices. Typically, occupancy rates in the 90s are a sign of cheap units, which means you have an opportunity to make some more money.
It might sound counterintuitive, but you can boost your occupancy by increasing rates on certain units. For instance, right now 10x10s are in high demand, so if you increase the rate of your 10x10 units, this could make your vacant 10x15s seem more valuable.
Be sure you keep up with the times and inflation. You can't charge the same rate every year and expect higher revenue.
Also, tenants that are on autopay are much less likely to leave because of a rate increase, so try to push autopay for as many of your clients as possible.
Push Rate Pricing
Don't know a ton about push rates yet? No problem. StoragePug's got your back. More or less, push rate pricing is a price optimization tool that helps you maximize your profits, using factors like availability and unit pricing.
We recommend using a company like SiteLink who provides this awesome tool that will do most of the work for you.
Check out how SpareFoot breaks down SiteLink's push rate pricing tool:
Here's the gist of how they work:
"You set a street rate for each unit in SiteLink. Then, choose a revenue management plan in SiteLink (you can choose a preconfigured plan or make your own), which will automatically assign a push rate for the unit. This is the price SiteLink advises as ideal to push the unit and get it rented ASAP. Let's say:
You have lots of vacancy in your 10X10 units, and you haven't leased one in a while. If the street rate of this unit is set at $200, SiteLink might lower that price (within guidelines you've set) to perhaps a push rate of $180.
You have very limited vacancy in your 5X5 units and you leased one yesterday. If the street rate of this unit is set at $60, SiteLink might raise that price to $75."
So, if you're looking to raise your revenue and don't want a ton of hassle, using this nifty tool can help streamline your profits and will save you or your managers tons of time.
Keeping Tabs on the Competition
Luckily, you've chosen to open your self-storage facility in the technological age, which means that there are all kinds of impressive sites out there that can give you pricing and promotional analysis based on your region. This allows you to know exactly what's trending in your area, so you can incorporate this knowledge into your marketing and current rates.
StoragePug recommends:
4. Software & the Self-Storage Industry
It's no secret that the self-storage industry is changing just as rapidly as other industries that have traditionally relied on advancements in technology to keep them afloat, and in order to be competitive in this current market, facility owners need to embrace new technology ASAP.
Lots of self-storage facility owners can feel kind of lost with all of the options that are available to them in the software world, and if you're one them, don't worry, we've broken this down for you in a stress-free and succinct way, with plenty of tips for getting you started.
Management Software
Management software is one of the most effective tools you can have for your business. Most management software providers offer a complete package that allows owners to streamline many aspects of their business.
This software can provide you with time management tools, a ledger for taxes, a customer relationship management (CRM) system, as well as the ability for your clients to rent their units and make payments.
If you're looking for a self-storage software provider we recommend:
Website
Speaking of your clients being able to rent and pay for their units online, we should definitely talk about a website for your self-storage facility. Remember that, like your on-site manager, your website is the face of your business and can make or break your company's ability to sign up new clients and retain old ones.
In terms of designing your website, here's what StoragePug recommended in a recent article.
The best self-storage sites on the web right now contain:
Online bill pay with easy autopay set up

Online rentals in a seamless, easy process

Size guide with relative size comparisons

Frequently Asked Storage Questions

Storage Help (tips for storing, calculator, etc.)

Great User Experience (UX) on all devices
So whenever you start putting your website together, make sure you have all of these elements in your design so your customers will receive the best online customer service experience possible.
Gate & Security System
The security of your facility should be at the top of your list of priorities, though sometimes it can seem a little overwhelming to outfit your entire property with sufficient gear.
If you want to know the most important items to buy to keep your business safe, here's some information to get you started.
Exploring the Costs
1. Video Surveillance and Monitors
Estimated Budget: $300 - $400 per camera.
This price does not include installation, so make sure you budget for this expense. Plus, any advanced features like temperature monitors or license plate readers cost quite a bit more.
2. Individual Door Alarms and Electronic Locks
Estimated Budget: $50 - $250 per door installed.
Since individual alarms and electronic locks are so popular now, the prices of them vary. Make sure to shop around and see which items and prices are best for your needs.
3. Electronic Gates/Gate Operator
Estimated Budget: $8,500 - $35,000 per pair that is installed.
Remember, to consider all of the variances when a customer enters and exits your self-storage facility after the automatic gate has been installed.
Covering the Basics
According to Live Oak Bank, here are the 4 most important aspects to consider when optimizing your facility for security.
Property Maintenance

Surveillance Cameras

Perimeter Fencing

Electronic Gates
If you set your facility up with these items, you've got everything you need to make sure your business is as safe as possible.
5. Getting Some Automation into Your Life
One big question that many self-storage owners have been asking themselves lately is whether they should invest in websites or a self-storage kiosk.
Here are the pros and cons to both:
Accessibility
Your clients can access your website from anywhere in the world.
Kiosks can only be accessed at your facility.
Convenience
Both can be accessed 24 hours, unless your kiosk is located inside your facility's gate, making it slightly less convenient.
Syncs with Property Management Software
Both websites and kiosks are able to sync with your property management software.
Rent Units and Sign Leases
Both websites and kiosks allow customers to rent units and sign leases, but a kiosk requires that the client must be on the property to rent a unit.
Convert Leads into Leases
Both kiosks and websites allow customers to sign leases, but websites are available anywhere whereas, again, customers must be at your property to use a kiosk.
This means you'll most likely convert more leads into signed leases with a website than with a kiosk.
Pay Bills
Both websites and kiosks let customers pay their bills, but one advantage that kiosks have over websites is that they can accept cash payments.
On the other hand, a website with a payment portal allows your customers to configure AutoPay, schedule a move-out, print out their lease and more.
Dispense Locks
Obviously, websites can't dispense locks, but kiosks can, which means they edge out websites in this category.
Reduce Staffing Costs
Both websites and kiosks can reduce your staffing needs and allow your manager's some extra time by giving customers the ability to pay bills, rent units, and sign leases.
Live Chat
Websites and kiosks can both be set up to offer live chat options for customers.
What about Google?
Ranking on the top of a Google search can drive customers to your site. Kiosks don't have the ability to connect to Google but your website can bring a lot of people to your business if you rank up!
Set-Up and Maintenance Expenses
Websites are, generally speaking, much cheaper to set-up and maintain than kiosks. Depending on the features, kiosks can cost anywhere from $2,000 to $20,000.
Plus, you'll need to budget for installation costs, maintenance, and service costs.
Conclusions
Ideally, you'd like to have both a website and a kiosk for your business, but if you can only afford one, StoragePug suggests you go with a well-designed website.
A website is more accessible and is much better in helping you find and convert new leads.
6. Managing Your Managers
Your property managers are integral to how your business functions on a daily basis, and they serve as the public face of your company, so picking a first-rate manager is crucial to your business's success.
Hiring Process
When hiring new managers make sure you are looking for qualities that will help keep the place clean, boost revenue, and recruit new clients.
If you're having trouble sifting through resumes, take some tips from Storage Asset Management:
Setting Goals for your Manager
Coming up with goals for your managers is how you up your marketing game, and make your employees feel more involved in the economics of your business.
We recommend using the S.M.A.R.T. system:
S = Specific

M = Measurable

A = Achievable

R = Relevant

T = Time-bound
Let's break this down:
Make sure your goals are SPECIFIC so there are clear expectations for your manager.
Examples:
- I want to offer a better referral incentive by offering a free months rent to anyone who successfully refers someone.

- I want to increase web traffic to rent more units. Currently we are renting 2 units online a month. We will incorporate a digital marketing plan to increase the web traffic.
Your goal should be MEASURABLE in clear numbers so your manager can focus on hitting their mark.
For example, you could set a goal to rent 5 more units this month than last.

This is a solid, measurable goal; however, there are other steps within that goal that could be measured.

You could additionally set a goal to create 20 more leads through marketing this month, getting more contact information for potential customers.

You could also set a goal to increase the number of follow up calls, etc.
Make sure your goals are ACHIEVABLE or else your manager won't be able to meet their goals and might become frustrated with their work.
"For example, if you have a facility that is 98% occupied, it might be an unachievable goal to increase the number of rentals by 10. In that case you could incentivize lowering the number of delinquent payments. You could also offer an incentive to sign up more of your tenants to auto pay."
Design your goals so they are RELEVANT to your facility's long-term objectives. Make sure your manager is aware of how these fit into your overall business plan.
As you come up with goals there are some things that you need to consider:
Current market trends
Occupancy rates
What marketing is working
Your manager needs their goals to be TIME-BOUND in order to put pressure on them to meet the desired goal and so you can measure how well they have achieved this goal.
Pro tip: Always reward your manager when they meet their goals. This doesn't need to be a cash bonus, it could be something like a paid day off, tickets to a sporting event, a gift card, etc.
However, cash is most likely the best way to show your appreciation. If your manager is doing a good job of making money for the business, they ought to get their piece of the pie.
Figure out what motivates your manager!
What Are the 7 Most Important Traits of a Self-Storage Manager?
Good question. Here's what we've decided after years in the business:
Professional Sales Experience

Great Customer Service Skills

Building and Fostering Trust in the Work Environment

Attention to Details

Cool Under Pressure

Great Attitude

Able to Take Responsibility for Mistakes
If you find all of these qualities in one employee, then it's a good bet that they'll be a great manager for your business!
Resident Managers or Not?
Resident managers have been in the storage business for a long time but the decision of whether to have your manager live onsite can be a difficult one.
Here are some things to consider when deciding on whether or not to hire a resident manager.
Advantages of Having a Resident Manager
Someone is always onsite to deal with problems quickly at all hours.

You and your tenants have an added sense of security because someone is there to look after the facility.

Because they live onsite, a resident manager's sense of pride in the facility and the business brand is likely to be higher because they live there.

Offering to cover most of your manager's living expenses is a great perk which can draw quality applicants.

The turnover rate is likely lower because of the resident manager's life is tied to the job.
Disadvantages of Having A Resident Manager
Firing a resident manager can be hard, because they are being evicted from their home as well.

It can also be easier for managers to neglect their duties. While this can occur with non-resident managers as well, it's easier for a resident manager to head home on a slow day because their house is onsite.

Lastly, there's the bottom line. Meaning, the unit where your manager lives can be rented out as storage space and can increase your revenue.
Conclusions
In the end, the decision to have a resident manager rests with you and depends on your particular situation. Hiring a resident manager requires a lot of trust on your part so make sure you vet these potential employees well and don't offer this position to just anyone!
7. The Benefits of the SSA to Self-Storage Owners
By joining the Self-Storage Association (SSA) owners have access to a number of important resources, including legal information from their Self-Storage Legal Network, education and training, networking, new member operations package, communications, healthcare options, business exposure, publication and research, and scholarship programs for your employees.
Here are some of their current member rates: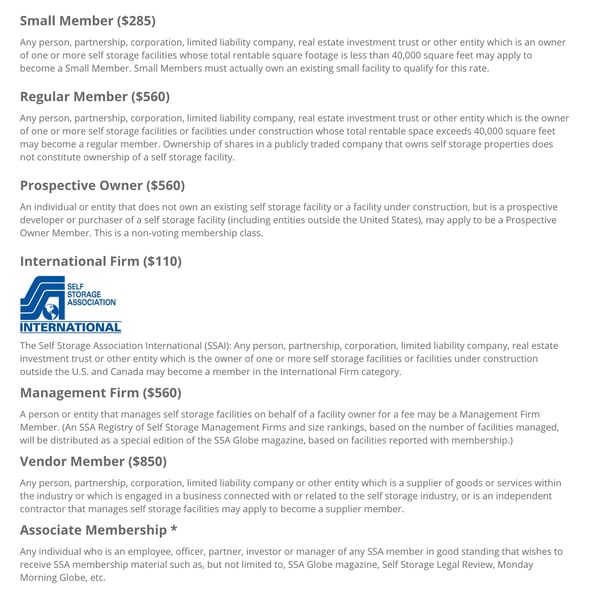 Joining the SSA should be something that is on every self-storage owner's mind!
8. Keeping Up with Facility Maintenance
Your facility's façade is a crucial aspect of how you gain and maintain clients. Even if you're not too handy, it's important that you don't let your facility fall by the wayside.
This isn't as hard as you might think. Just remember, don't skimp or cut corners on repairs, keep the landscape trimmed, make sure the facility as a whole is consistently clean, keep your lights on and bright, and make sure your signage is visible.
Keep those few tips in mind and your place will always look spotless!
We Hope This Helped
Thanks for reading our Handy Guide to Self-Storage Investing & Ownership. Remember that the tools you need to make your self-storage business successful are right at your fingertips and StoragePug is there to help you discover them.
Whether you're breaking ground on your first business or have years of experience in this industry, we are here to help you navigate the current self-storage industry in a way that will maximize your clients, revenue, and marketing game.
We hope you've learned a lot from this e-book and remember to visit StoragePug.com for all of your self-storage marketing needs!