You may have heard of portable storage containers when you have too many things needing a place to be organized or when you need help moving, but have you ever thought about using one as a garage?
Depending on what type of vehicle you drive, you might consider a portable unit to be a convenient alternative to parking on the street or in a lot where anything could happen to your car.
There are quite a few benefits to using a portable storage container as a garage, perhaps more than may seem apparent at first.
In this article, there is a wide range of details gathered if using a portable storage container to store a vehicle sounds interesting.
From here, you'll have enough information to confidently speak with your local storage provider to inquire about any portable storage containers they may offer for rent or purchase.
No need to wait until you can purchase a home to enjoy a garage—just rent or buy a portable storage container.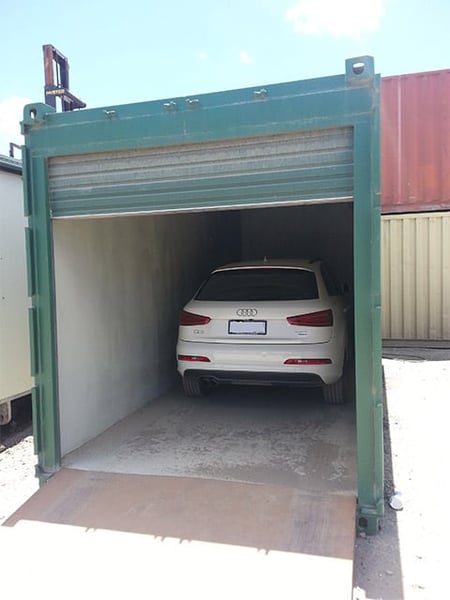 Benefits of Portable Automotive Storage
One of the most apparent benefits of having your vehicle stored in a portable container is protection.
In a portable storage container, your vehicle is out of the sun, heat, rain, wind, hail, and snow.
Besides driving consistently, weathering the elements is the second-most damaging process, so by storing your vehicle, you're able to prolong the wear-and-tear process.
Availability is probably the next most significant benefit. If you rent or purchase a portable storage container, you're able to access your vehicle whenever you want.
Having your car as nearby as possible can give many folks peace of mind, too.
Though storage facilities typically have security, having your own defense measures in place can make the storing experience much more satisfying as well.
Just like any other garage, the portable storage container can also be temperature controlled, to a point. Portable storage tends to have fewer amenities than fixed storage, but the price per square footage of storage is very valuable when it is on your property.
Climate controlled units tend to be associated with traditional facility storage. However, you can undoubtedly introduce heat and ventilation if you buy a unit to keep on your personal property.
Finally, you can also keep tools and spare parts near the car, whether you purchase the portable storage container or lease it. Think of it as an extension of your workspace but set aside until you're ready to get tinkering again.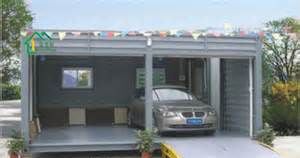 What to Consider
Now that you're more familiar with some of the ways portable storage can benefit you and your vehicle, let's take a look at what you should consider when toying with the idea of a portable garage:
Size: Knowing what size container to check out should be the first priority on the list.
Generally, you want enough space around the vehicle to open at least one of the car doors for access. Ideally, you'll want a bit more space than that around the vehicle so that you can spread out if you plan to work on it.
When speaking to the storage facility representatives, let them know what type of vehicle you have. Lifted pickups will have a much harder time finding an appropriate container than midsized sedans and compact SUVs when speaking in terms of container sizes.
Cost: Here's where you'll have to do the math.
Are you going to lease a portable storage unit for a short time or purchase or rent a unit for a more extended period? It all depends on which option you prefer and is the most cost-efficient.
Do some calculations to see what path is right for you.
Intended Use: Beyond using the portable storage unit as a garage, what's your goal?
Do you need somewhere to store the car for a few months, so it doesn't get damaged?
Will you be restoring the car or working on it so that you can eventually drive it and park it somewhere else?
Having your end goal in mind will help guide you as you choose a portable container.
Location: Delivery fees should factor into your budget if you plan on renting or buying a unit.
Also, in relation, be prepared by choosing where the unit will live once it is delivered to your property.
These are just a few things you should consider when looking at a portable storage unit to use as a garage.
Is Portable Automotive Storage Right For You?
Deciding whether or not to invest in a portable storage container to use as a garage can be a tough decision.
Consider the points made above as you ponder what action to take.
Another alternative to a portable storage unit could be purchasing or building a structure, though that may end up costing just as much, if not more than you would spend on a container.
Do your research, weigh up the pros and cons of each action, and ultimately decide what's best for you and the investment and cherished possession that is your vehicle.
Security, accessibility, transportation, and storage all under one room delivered as close to you as possible. You may find a portable storage container to be the best of both worlds.
For more self storage articles, take a look at:
StoragePug is a modern marketing company for self storage. We create intelligent marketing websites that allow you to rent units & take payments through your facility's website.