Google My Business is an easy-to-use and useful tool for brick and mortar businesses. It allows you to manage your online presence across Google.
This free tool helps potential and current customers learn a lot about your business. By simply verifying and editing your information, you can help customers find your storage facility and learn more about the services that you offer.
Google My Business works with Search and Maps — and it is entirely free to use.
What Happens When Customers Cannot Find You Online?
Imagine that you have just closed on your new home and the move-in date is not for another month. You have a place to stay in the meantime, but there is no room for your belongings. You decide to search for short-term storage.
There is a storage facility that you drive by on the way to work. You are in a hurry every morning and don't have time to stop in, so you Google the business expecting to find the hours and rates. However, the storage facility is not in the Google results.
Would you bother to stop by the facility if you can't find it online?
Businesses that are verified on Google are twice as likely to be considered trustworthy by customers.
If you are like most people, you probably won't take the time out of your hectic day to stop by a business that you don't think is trustworthy. This illustrates why it is so important to claim your free Google My Business listing.
Benefits of Google My Business
Need more reasons why you should make a Google My Business profile for your storage facility? Here are just a few of the benefits of becoming verified.
Helps Customers Get Important Info at a Glance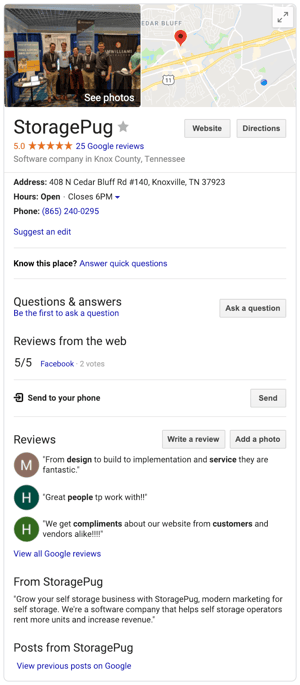 With Google My Business, you control what information customers see when they search for your storage facility.
Displaying things like your hours, street address and website information are all helpful bits of information that your customers want and need.
It saves them time as they don't have to call you to get the information.
Lets You Publish Posts About Events And Services That You Offer
Google My Business gives you a free and easy way to tell potential customers about a special that have going on.
You can publish posts about your products, services, and events directly to Maps and Search.
You can post various types of content, including videos, text, and photos.
Can Help You Minimize The Damage Of Negative Reviews
All it takes is one or two negative Google reviews to tarnish your hard-earned reputation severely. Maybe a competitor decides to leave a fake review. Or, a disgruntled customer gives a not-so-truthful review.
The good news is that Google My Business allows you to respond to negative reviews, showing the reviewer - and others reading the review - that you care about customer service and want to correct problems if they arise.
Responding to positive reviews also helps your reputation, showing your customers that you appreciate their insight. Engaging with reviewers also enables you to show up higher in Google search engine results.
Lets You Engage Customers With Photos
People love photos. Visual content is a powerful marketing tool.
Displaying photos of your storage facility can help customers get a feel for what you offer. It can even mean instant conversions!
According to Google, businesses that have photos displayed on their Google My Business profile are 42 percent more likely to request driving directions to their business.
For more information about creating or managing your Google My Business listing, contact us today.
For more of my favorite posts, check out the following: