The portable storage industry grew by 2.6% to $8 billion in revenue in 2018. Although portable storage is a relatively new addition to the self storage world, it is becoming an increasingly attractive investment opportunity.
Read on to learn more about portable storage as an investment opportunity.
What Is Portable Storage?
Portable storage (also known as mobile self storage) involves delivering empty portable storage containers to a customer's site.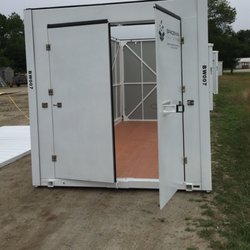 Once loading is complete, the containers are picked up and delivered to a new location for unloading or stored off-site until delivery is needed.
Portable storage is ideal for:
• Residential moves
• Office relocations
• Store openings
• Home remodeling or renovation projects
• Construction sites
• Off-site business document storage
• Seasonal merchandise storage
• Donation drives and disaster response.
Portable storage has many benefits compared to traditional self storage, including less competition, premium rental rates, scalability, lower start-up costs, and varied customer experience.
For owners of existing self storage facilities, investing in portable storage can help extend your brand, expand your customer base, differentiate you from the competition, and act as a moving billboard for your facility.
Although portable storage requires more attention to daily operations (e.g., scheduling pick-up and delivery times) than traditional self storage facilities, selecting the right software management system can make things easier.
Also, finding processes that work with your inventory and capabilities will maximize efficiency and return.
Options for Investing in Portable Storage
There are three primary ways to invest in portable storage.
Buy a Franchise
Purchasing a portable storage franchise provides name recognition, credibility, and resources for initial business operations.
Portable storage franchise options include PODS, UNITS, 1-800-PACK-RAT, Big Box Storage, Smartbox Moving and Storage, and MyWay Mobile Storage.
The downside is that franchise fees might be burdensome for some investors. The charges may make margins thinner than desired.
Start From Scratch
Building a portable storage business from the ground up is an ideal way to grow at a personal pace and avoid franchise fees.
The downside is that it may take longer to build a customer base. Researching potential clients in your area might help you decide if there are enough people to provide for or not.
Add To An Existing Self Storage Facility
This option is less costly than the other two as it minimizes the start-up costs involved and expands an existing brand.
The downside is that an existing self storage operation is needed and that endeavor is more resource and time intensive to launch.
If you don't currently own a self storage facility, consider purchasing an existing facility and expand organically. Portable storage will align easily with an existing brand and facility.
Start-Up Costs for Portable Storage
As with all businesses, portable storage has associated start-up costs.
The costs will depend on the business size, location, and what resources you already have.
Owners of existing self storage facilities will have lower start-up costs because they won't need to invest in land and understand the exact reasons why they are choosing to expand.
Typical start-up costs for portable storage include the following.
Containers
The containers are the most significant expense in starting a portable storage company.
Available in a wide variety of sizes and configurations, containers are typically 8 feet high and can range in length from 7 feet to 20 feet.
The majority of containers include a steel frame, steel and aluminum composite panels, roll-up doors, and a translucent plastic roof. To ensure that they are weather-proof, so they protect the contents inside while stored outdoors.
Container Lift System and Truck
A truck outfitted with some form of a container lift system is the second essential component of a portable storage business. The lift system must be able to lift fully loaded containers without tilting and transport them securely.
Equipped trucks will be the foundation of delivery methods and pricing.
A system that allows for fast and safe loading and unloading with minimal staff is essential.
Land
Even though customers rent containers and place them at their site, a location is needed to store containers between rentals along with the delivery truck.
Because containers can be stored outside, a building is not required—making a parking lot or easement a possible real estate opportunity.
Securing the area with fencing and security cameras is also a good idea to protect the investment. Be sure to know the local zoning rules and restrictions and transportation regulations in the area.
Franchise Fees
Franchise fees may be negligible or substantial. If the price is high, weigh out what the price includes. Franchise opportunities occasionally provide containers, tech, information, or trucks.
Staffing
If you don't plan on being a hands-on owner, then staff will be needed to schedule and coordinate deliveries, drive the truck and manage business operations.
Legal and Insurance
Having a suitable rental and leasing agreement is critical for success, as is obtaining the necessary liability insurance coverage.
Software Management System
The software system used to manage the business is crucial as you'll need to coordinate pick-ups and deliveries and bill multiple customers.
There will be many facets of your business that can be improved or automated using technology or software.
Marketing Plan
Your business won't take off and grow if you don't market it. The centerpiece of your marketing plan will be through the Internet.
Create a tailored website targeted to a specific customer base that incorporates all the tools they'll need.
A website can optimize reservations and rentals for potential customers. Lease signing, insurance, and bill pay can be handled online too. These options will make the whole process convenient and pleasurable for customers.
These are considerations to make the idea of starting a portable self storage operation manageable.
Conclusion
If you need financing help, consider loans from Live Oak Bank (which offers competitive rates and loan terms exclusively to small businesses) or a loan guaranteed by the Small Business Administration.
Whether adding portable storage to an existing self storage facility or building a portable storage company from the ground up these efforts will need some level of investing and preparation.
Actualizing the real costs and operations of portable storage will make for a seamless beginning or transition regardless of your experience with self storage.
For more self storage articles, take a look at:
StoragePug is a modern marketing company for self storage. We create intelligent marketing websites that allow you to rent units & take payments through your facility's website.